Awkward Olympic Swimming Moments That Were Captured By Millions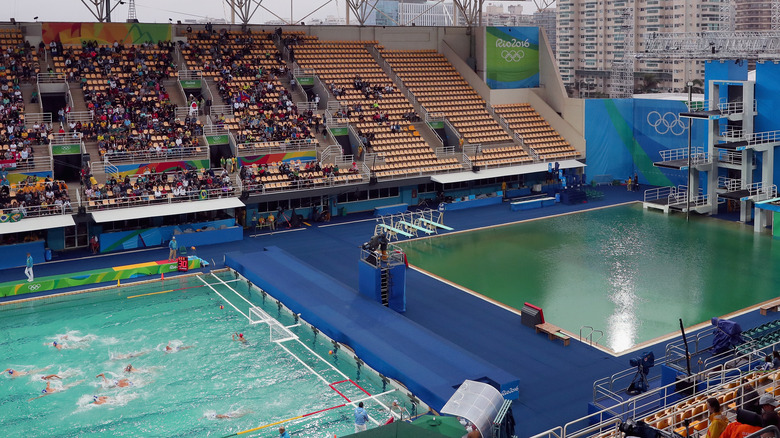 The Olympics are a pretty big deal. The best athletes from around the world gather to compete. Millions watch along, rooting for their favorite countries. Yet with so many eyes on you, it's no surprise that something a little uncomfortable happens once in a while. 
Competitive swimming leaves a lot of room for awkward situations, especially when it comes to the Olympics. Take the 2016 Summer Olympics in Rio, for example. Many coming to the Games were aware that Rio struggled with polluted water. The bays and rivers were often a shade of green, and that proved to be a case for the Olympic swimming pools as well. Officials inside the organization pointed fingers at different reasons for the pollution, from an algae bloom to pool keepers running out of the necessary chemicals (per Rolling Stone). Attention was drawn to the issue when Team USA swimmer Ryan Lochte, who had recently dyed his hair silver, emerged with minty green hair. 
But that's just one awkward moment from Olympics swimming history. Following are a few more.
Sun Yang's attempt to celebrate failed on live television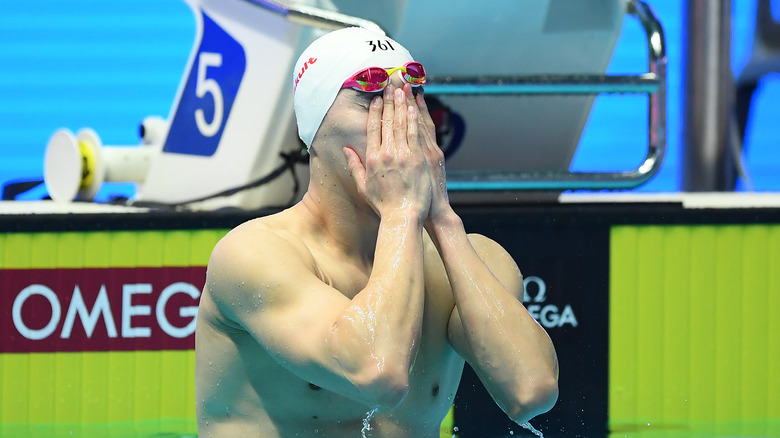 In 2016, Sun Yang had just won the gold for the 200 meter freestyle event when he decided to celebrate by chucking his swim cap into the stands at fans. It would've been cool, it could've been cool, but that's not how this went.
Yang took off his cap and tried to throw it to a particular fan. He failed, and the cap instead looped its way back around and into the pool. Yang then sheepishly stepped over the barrier from the pool and retrieved the cap from the water. "Sun yang attempting to throw his cap to the crowd is the reason #swimmers should stick to the water #Swimming #Rio2016 #Olympics," one person tweeted.
He seemed pretty embarrassed, but he was still dedicated to getting the cap into the right hands. He eventually got it to the fan he'd originally had in mind (per Swim Swam).
David Davies needed a stretcher after his race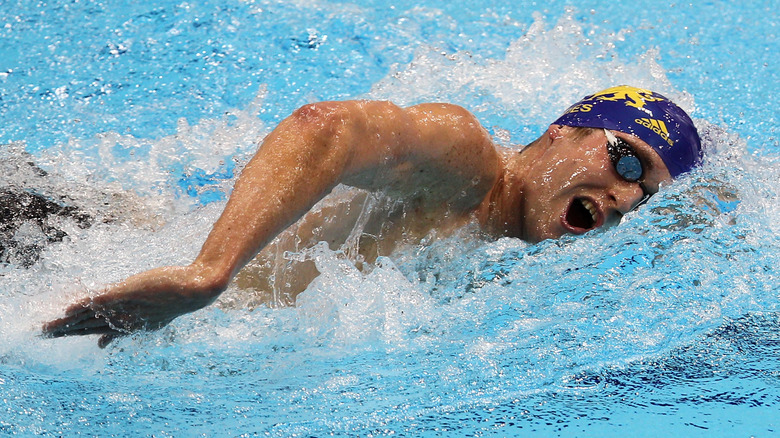 David Davies was competing in Beijing in 2008, representing Great Britain in the open water 10-kilometer race. Davies was ahead for the whole race, but at around 800 meters, he drifted offline which allowed the competition to gain an advantage. "I gave it everything and that was what I wanted to do and I have something to show for it," Davies told the BBC. "I like swimming from the front but that last lap was a real struggle and the final section was a blur." 
The race made him the first Welsh swimmer to win an Olympic silver medal since Martyn Woodroffe in 1968 (per Wales Online). His achievement couldn't be celebrated right away, however. As he went to climb out of the water onto the pontoon, he collapsed. The concerned medical team loaded him onto a stretcher. "I was delirious but the stretcher at the end was a bit mad. I just wanted to lie down and have a sleep" (via BBC).
Fran Halsall's late arrival delayed the race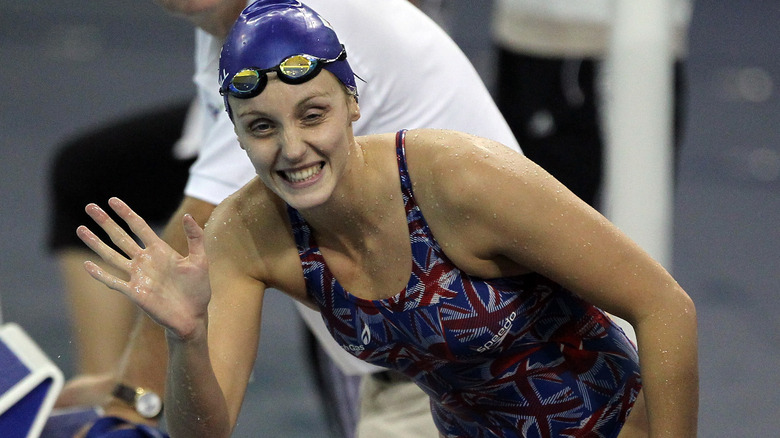 Fran Halsall was a 26-year-old swimmer for Great Britain who inadvertently caused an Olympic delay at the Rio Games in 2016. The 26-year-old took an Olympic Village bus with fellow 50 meter freestyle semi-finalists Jeanette Ottesen of Denmark and Aliaksandra Herasimenia of Belarus. It was supposed to take them to the Aquatics Stadium, but a confused bus driver took them to the Olympic stadium instead.
"It took us to the Olympic Stadium, which happens to be 40 minutes in the opposite direction to the pool," she told BBC. "So I ended up going and having a nice tour around the Olympic Stadium, 40 minutes back to the village, and then back to the pool for warm-ups. My emotions and adrenaline were all over the place."
Per ESPN, the race began over 30 minutes after its scheduled start time, with Halsall joking that all would be good for her competition the next day, as long as there weren't any more unexpected detours.
Eric Moussambani was the sole competitor in his race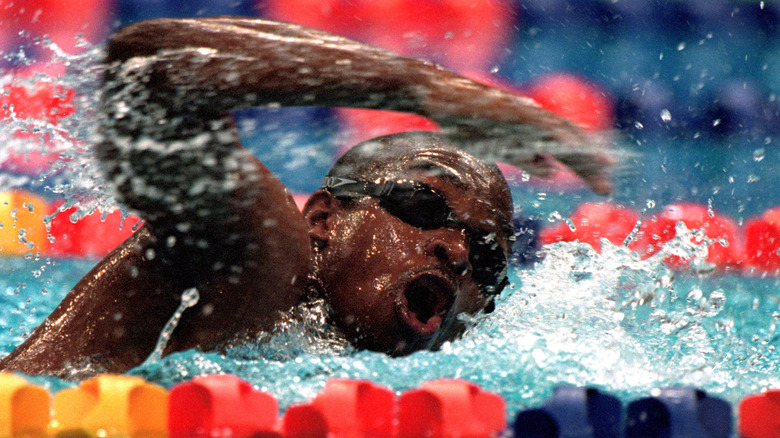 Equatorial Guinea's Eric Moussambani had only learned how to swim months before representing his country in Sydney's 2000 Olympics. He'd never left his country, let alone seen a pool the size of the one he would compete in when he got to the Games (per The Guardian). He was initially told, and therefore trained around the idea, that he'd be swimming 50 meters. His race distance was twice that, but he would end up winning on a crazy technicality.
His excited competition, Niger's Karim Bare and Tajikistan's Farkhod Oripov, both were disqualified for, literally, jumping the gun and starting ahead of time, leaving Moussambani the sole swimmer. He gamely took to the water, but when his less-than-speedy time became apparent, "laughter became audible above the half-hearted cheers of the bemused crowd" (via The Guardian). He looked "quite literally out of his depth." But as he kept going, the crowd began to cheer him on, and he finished the race in 1:52.72, the slowest recorded time in Olympic history.
Sadly, a passport technicality would keep Moussambani from continuing his swimming career. He wasn't allowed to compete in Athens 2004, after which the media momentum around him died down.
Michael Phelps got caught giving a serious mean mug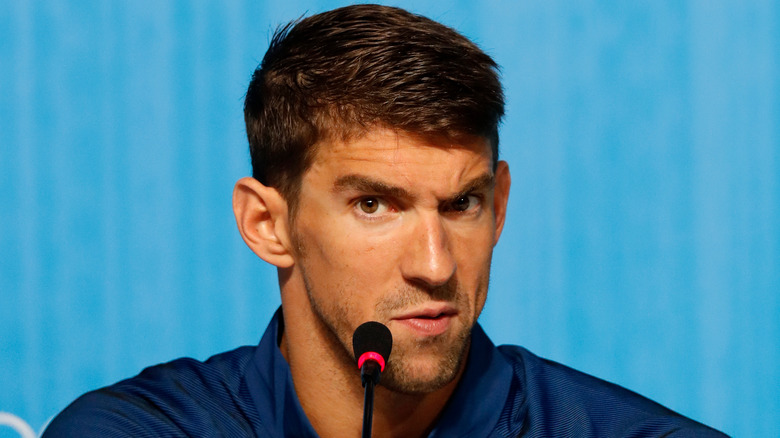 Michael Phelps has made headlines in every Olympics he's competed in. But the attention surrounding the renowned swimmer in Rio in 2016 was different. 
The tense exchange caught on camera involved Phelps and South African swimmer Chad Le Clos. The two Olympic athletes were already known to have a bit of a rivalry, with Phelps jabbing at a lack of speed in the sport in 2015. Shortly after, Le Clos won the 100 meter butterfly at the 2015 world championships and said, "I just did a [100m butterfly] time that [Phelps] hasn't done in four years, so he can keep quiet now" (per The Guardian).
Since the tension between the two men was clear, it made a shady moment in Rio appear to capture much more attention than it may have otherwise. As Le Clos shadowboxed ahead of getting in the pool, Phelps looked at him with what the media dubbed a "death stare." Later, reporters asked Phelps about the look and what he was thinking. "Nothing, honestly. I was trying not to even look at him. He does his thing, I do my thing," he said (per SB Nation).
Source: Read Full Article