Britney Spears and Bill Cosby: The Irony Explained
Is Britney Spears in prison while Bill Cosby goes free? Confused? You're not the only one. Twitter exploded on June 30 with the news that comedian Bill Cosby was released from prison, while a judge denied Britney Spears' request to be free from her father, James Parnell Spears. 
Mariah Carey, Paris Hilton, Miley Cyrus, Halsey, and Spears' exes, Justin Timberlake and Justin Federline, openly supported the Free Britney movement. Phylicia Rashad rejoiced that her TV co-star was no longer behind bars, and then she felt the immediate blowback from her words.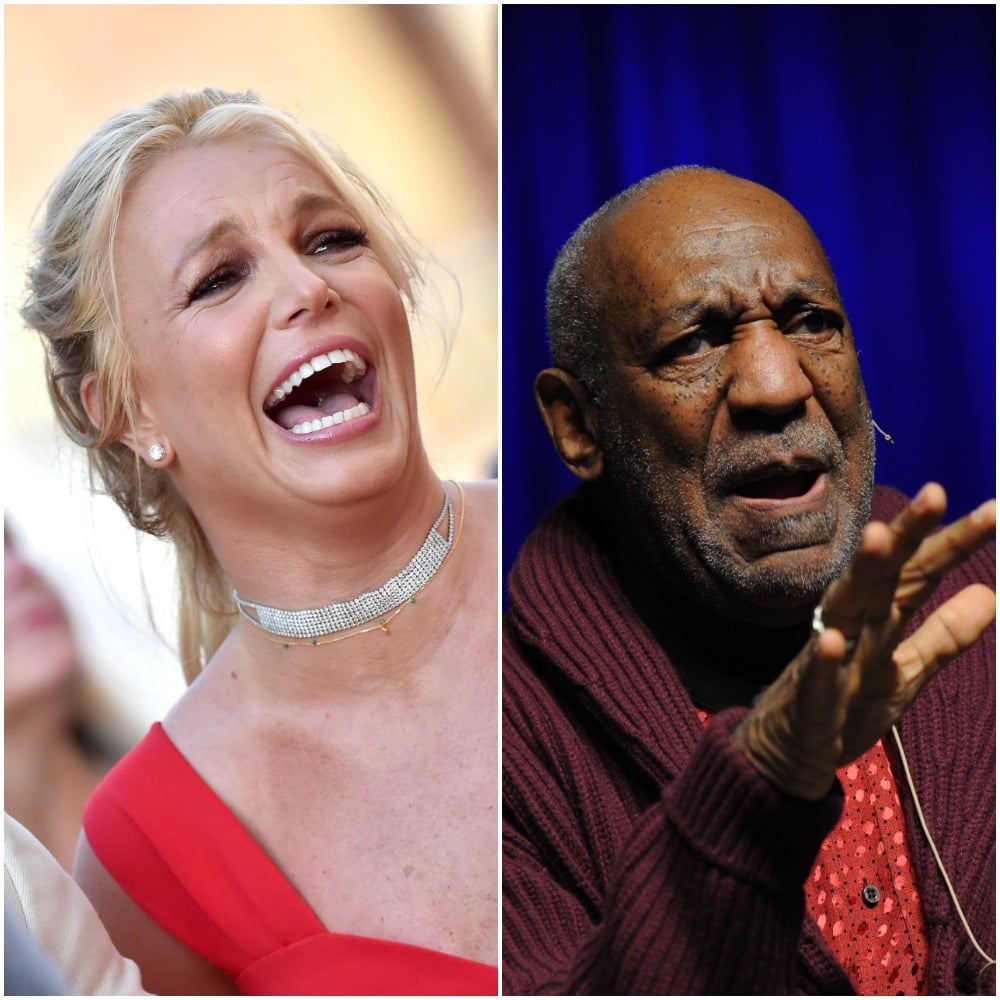 Why is Britney still under a conservatorship?
Is Britney in prison? No, the pop icon isn't in prison, and she never was. However, she is under a conservatorship run by her father, James Parnell Spears. He is her guardian who oversees her $70 million estate and personal well-being. However, in testimony on June 23, Britney told Judge Brenda Penny that she feels her situation is similar to sex trafficking. The "Toxic" singer cannot remove an IUD (birth control device) from her body because of the conservatorship team. She also detailed a time when the doctor on her conservatorship team prescribed her lithium against her wishes.
Why did the judge deny Britney? On June 30, Judge Penny denied the request to suspend Jamie Spears from Britney's conservatorship. Legal analyst Aron Solomon from Esquire Digital believes that the judge denied the request because of "a procedural issue." Even if the judge had granted Spears' request, she still would have her personal conservator, Jody Montgomery. The bottom line for Britney is that her lawyer, Samuel Ingham III, needs to file a petition to end the conservatorship. However, as of July 2, he still hasn't filed. Britney Spears is living in what she feels like is a prison, while Bill Cosby is free.
Did Bill Cosby admit to his crimes?
Yes, in 2005, Bill Cosby admitted to obtaining quaaludes with the intention of giving them to young women. In the unsealed court documents obtained by the New York Times, the comedian admitted under oath that he gave the popular recreational drug of the 1960s and '70s to at least one woman and "other people." The now 83-year-old also admitted that he had sex with at least one woman after giving her the sedative drug.
"I meet Ms. (redacted) in Las Vegas," Cosby said in the 2005 deposition cited in a memorandum of law filed in United States District Court for the Eastern District of Pennsylvania. "She meets me backstage. I give her quaaludes. We then have sex."
A jury convicted Cosby in 2018 on three counts of aggravated indecent assault against Andrea Constand. The entertainer had served three out of the three to 10-year sentence when the Pennsylvania Supreme Court overturned the conviction. The court ruled that a "non-prosecution agreement" with a previous prosecutor still stands. According to the court, Cosby should not have been charged in 2018 because of that agreement. So, Bill Cosby went free on June 30, while Britney Spears remained in her conservatorship. That's when Twitter went wild.
Britney Spears and Bill Cosby: the irony
What is situational irony? It's when something happens that is very different than what is expected. The #FreeBritney movement took social media by storm in late June. However, instead of freeing the pop icon, the court system freed an unlikely person. Bill Cosby went free essentially because of a legal technicality, while on the other hand, Britney Spears is stuck in her conservatorship because of a "procedural issue." Both cases are strikingly different and complex, yet similar. Isn't a legal technicality the same thing as a procedural issue? That is exactly what a legal analyst believes happened to Spears on June 30. Judge Brenda Penny denied the pop star's request to remove her father, but the papers were filed in November 2020. That was before Spears' spoke out against her father and the conservatorship.
According to the New York Times, 60 women came forward with sexual assault allegations against Cosby. The same court system that freed Bill Cosby prevents Britney Spears from having another child, controlling her finances, or living her life the way she wants. 
Source: Read Full Article