Chrishell Stause Fires Back at Sexist Troll Saying She Cant Accomplish Anything Without Her Man
The reality TV star takes to her social media account to slam an online hater who claims that she gets her dream house just because of her boyfriend and Oppenheim Group founder, Jason Oppenheim.
AceShowbiz –Chrishell Stause is clearly not here for any negative comments from internet trolls. The "Selling Sunset" star has slammed a hater who said that she "can't accomplish anything" without her man, Jason Oppenheim.
On Saturday, December 11, the reality star shared a screenshot of an Instagram direct message she received from a user on her Instagram Story. "You two faced b***h!! You seriously act like the f**king victim when you're not! We can see right through you! That ugly predator mask you wear isn't going to cut it," so read the message.
"You ugly w***e!! And now you swear you're the big s**t Bc you're dating Jason! You can't accomplish anything without a man!" the harsh note continued. "The only reason why you're getting listings and selling them is Bc of Jason. And that dream house you got was Bc os Jason. You're such a fake and I hope you own up to your s**t and stop holding grudges you miserable b***h."
In response, Chrishell wrote over the screengrab, "It would seem I am not the miserable one here Genesis." The 40-year-old added, "When you are an agent on tv you end up getting so much business you have to refer it out to others Bc there is only so much time in a day."
"The days of getting more listings because of rank in the office are long gone," Chrishell continued. The real estate agent then concluded her post as saying, "But please take a breathe [sic] and have a great day! Thanks for watching!!!!"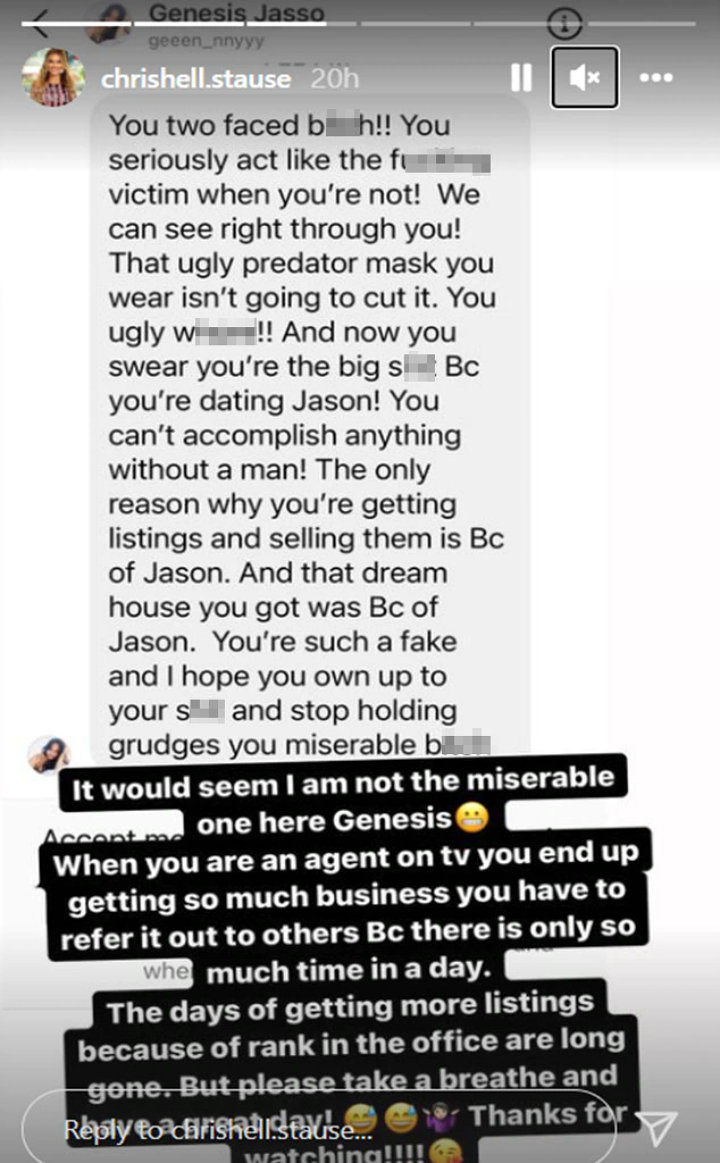 Chrishell Stause slammed a sexist troll.
After re-posting the message, Chrishell also thanked her fans for sending her an overwhelming amount of support and love. "You guys just flooded my DMs with the nicest messages, and I wasn't posting it for that," the reality TV personality told her followers.
"It just kind of gave me a laugh. But I really do appreciate it," Chrishell continued expressing her gratitude for the outpouring support from her fans. "You guys are just so kind and sweet and I know they are way more of you than the trolls. Thank you!"
Prior to this, Chrishell faced backlash after she shared PDA-filled photos with the real estate broker as they confirmed their romance. "That's just weird with your boss!!" one Instagram user wrote, to which Chrishell replied, "Who's gonna tell her…?"
After receiving criticism for dating her boss, Chrishell and Jason made their red carpet debut as a couple in August at the "Shang-Chi and the Legend of the Ten Rings" premiere. At the star-studded event, the Oppenheim Group founder said, "Chrishell and I became close friends and it has developed into an amazing relationship. I care about her deeply and we are very happy together."
Source: Read Full Article