Johnny Depp And Amber Heards Relationship Timeline
Johnny Depp has been making headlines with his Hollywood relationships and romances since the 1980s, but perhaps no headlines were more controversial than the ones his divorce from Amber Heard sparked when the couple first split in 2016.
Depp's first big tabloid romance came when he met a 17-year-old Winona Ryder in 1989 at the premier of her film "Great Balls of Fire." The pair dated for four years and were even engaged, with Depp famously getting a tattoo that read "Winona Forever." 
When they broke up, he had it changed to "Wino Forever" and moved on to other romances (via In Style). After a 14-year relationship with model Vanessa Paradis that produced two children, Depp and Paradis broke up only for him to head straight into another relationship with Heard, the second woman he would ever wed. He was married to Lori Allison from 1983 to 1985 before he became a star (via Elle).
Johnny and Amber embarked on a whirlwind romance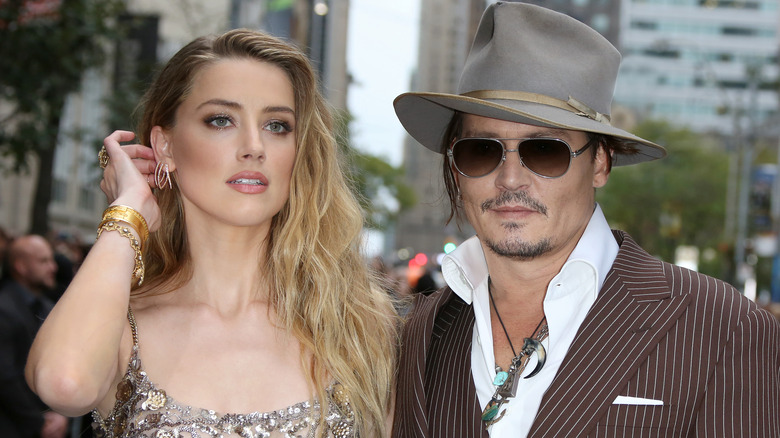 Johnny Depp was still in a committed relationship with Vanessa Paradis when he met actress Amber Heard on the set of the flick "The Rum Diary" in 2009. According to Insider, they began dating two years later in 2011, but did not come out as a couple until 2012 after Depp officially broke things off with Paradis. By 2014, Heard was wearing an engagement ring and by February of 2015, the couple was officially hitched.
People reported that the pair wed in a quiet beach ceremony on the groom's very own private island in the Bahamas with only a few dozen guests in attendance.
"Johnny's private island is a tropical paradise," a source told the outlet. "Wedding guests were treated to an amazing weekend that ended with a romantic beach ceremony. Guests relaxed on the beaches, had fun snorkeling and enjoyed food cooked by private chefs. Everyone seemed to have the best time. It was a very celebratory vibe."
The pair created controversy early in their marriage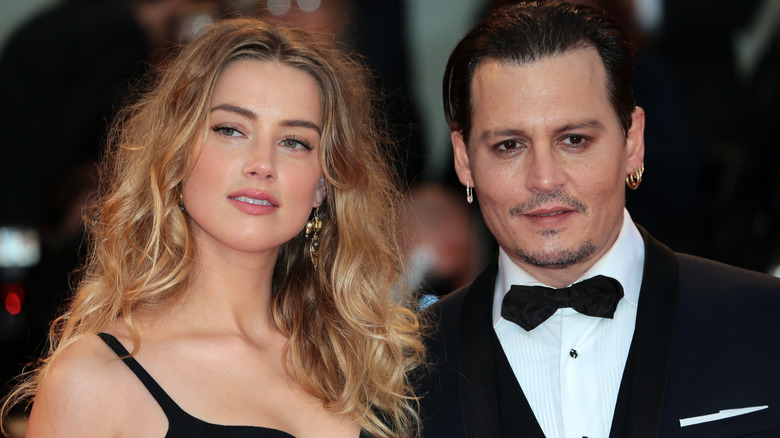 Although their wedding looked like a fantasy come true for any bride and groom, Johnny Depp and Amber Heard began running into trouble not long into their marriage. When the pair traveled to Australia later in 2015, they broke the country's biosecurity laws when they neglected to declare their two Yorkshire terriers, Pistol and Boo, upon their arrival.
The couple issued a very serious video apology, with Depp saying, "When you disrespect Australian law, they will tell you firmly 'Declare everything when you enter Australia.'" Heard added, "I am very sorry that Pistol and Boo were not declared…Australia is a wonderful island with a treasure trove of unique plants, animals, and people." Charges were eventually dropped and the newlyweds walked free (via Business Insider).
So clearly, it was a rocky start to a marriage that was never meant to last, as Heard filed for divorce from Depp in 2016, the year after becoming his wife (via Insider).
Amber files for divorce claiming Johnny abused her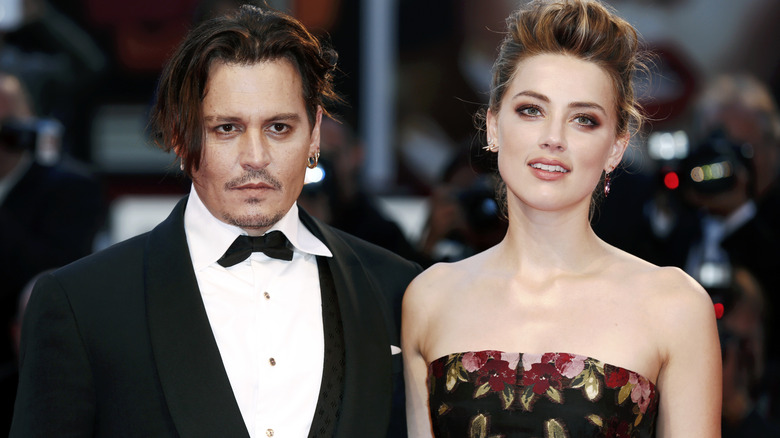 The very brief marriage between Johnny Depp and Amber Heard came to an end in a very public way when Heard alleged that Depp had been repeatedly abusive to her during their relationship, usually while he was drinking. She also took out a restraining order against her estranged husband.
Just before Heard asked for a divorce, Depp had allegedly thrown a phone at her and left her bruised (via Insider). In a deposition she gave in August 2016 as part of the divorce proceedings, she described what Depp was like when she said he would hurt her. "Johnny and I refer to his other personality, the part of him that is present when he beats me up — we call that the monster and have called [that] the monster for many years," Heard stated. "I was petrified of the monster," (via The Hollywood Reporter).
Depp denied the allegations, releasing a statement which read, "Our relationship was intensely passionate and at times volatile, but always bound by love. There was never an intent of physical or emotional harm. Neither party has made false accusations for financial gains," per The Guardian.
Heard received $7 million as part of her divorce settlement. According to USA Today, Heard said she was donating the money to the Children's Hospital of Los Angeles and the American Civil Liberties Union (ACLU).
Johnny and Amber sue and counter sue one another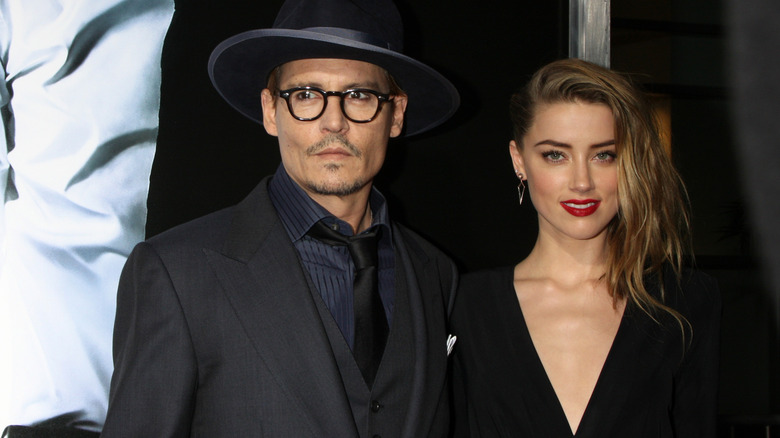 In August 2016, Amber Heard had her restraining order rescinded and she and Johnny Depp agreed on a financial settlement. In 2017, their divorce was finalized but problems would still plague them. As part of the divorce settlement, there was a non-disparagement clause that stipulated that neither party could publicly say anything negative about the other, according to Insider.
However, in 2018, Heard wrote an op-ed for The Washington Post detailing years of abuse but never mentioning her ex-husbands name. This prompted Depp to sue her, leading Heard to file a countersuit. In 2020, things got even more complicated when The Daily Mail unearthed phone recordings from 2015 in which Heard admitted that she hit Depp, but told him she didn't punch him and didn't hurt him. Depp could be heard telling his wife that they were "a f**king crime scene."
After his marriage broke up, Depp also sued The Sun after it described him as a "wife beater," however, Depp lost that case. As of this writing, Heard and Depp's own lawsuits against one another are still ongoing, with a judge ruling in July 2021 that the ACLU had to disclose whether Heard donated part of her divorce settlement to them or not (via USA Today).
Source: Read Full Article