Ludacris Raves Over Viral Hilarious Virginias Fast and Furious Highway Sign
The Tej Parker depicter declares that he 'can't believe this is real' after seeing the electronic traffic message board that reads, 'DRIVING FAST AND FURIOUS? THAT'S LUDACRIS.'
AceShowbiz –Ludacris apparently is surprised to see his name written on a highway sign. After a hilarious Virginia's "Fast and Furious" traffic message went viral on the internet, the "F9" actor took to his social media account to share his thoughts about the electronic message board.
On Sunday, June 27, the 43-year-old rapper/actor posted a photo of the viral traffic warning near exit 86 on Interstate 95 that read, "DRIVING FAST AND FURIOUS? THAT'S LUDACRIS." The Grammy-winning artist went on to declare that he couldn't believe the sign was real. "Virginia I Love You Back! Can't Believe this is real," he wrote in the caption.
The "Higher Movement" rapper, whose real name is Christopher Brian Bridges, continued his note, "Should this s**t be on every highway? #f9 #nowthatsludicrous." In the comment section, the Virginia Department of Transportation left a comment, "We hope this made your weekend travel a little more entertaining."
On Monday, June 28, VDOT officials turned to their official Twitter page to promote a safety campaign with the viral highway sign. "Even @Ludacris & the entire @TheFastSaga team know that sometimes you just gotta drop your speed & #SlowDown. Let's all #DriveSafely, friends! #Fast9," they penned along with a GIF of the "What's Your Fantasy" rapper saying, "I like that."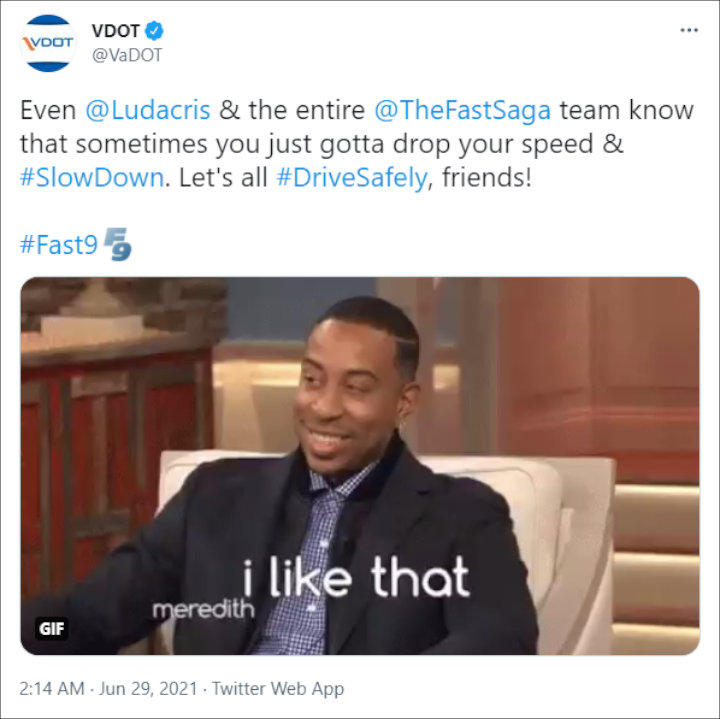 The Virgiana Department of Transportation promoted a safety campaign with the viral 'Fast and Furious' highway sign.
Ludacris returned to the "Fast and Furious" saga alongside Vin Diesel, Michelle Rodriguez, Tyrese Gibson, Jordana Brewster, Charlize Theron, Nathalie Emmanuel, Jason Statham and more in "F9", which earned an estimated $70 million over its first three-day weekend and set a new record in the pandemic era.
The first three-day tally of the latest entry in the "Fast and Furious" series surpasses the previous pandemic-era record set by Paramount's "A Quiet Place Part II" with $48.3 million last May. Not only that, but it is also by far the biggest start for a movie at the U.S. box office since 2019's "Star Wars: The Rise of Skywalker", before COVID-19 shook the theatre industry.
Source: Read Full Article