The Truth About What Happened To Queen Elizabeths Tiara On Her Wedding Day
Royal weddings are a treat to the eyes, even if you are watching them on TV. There's so much that goes into ensuring that the event is perfect. All the hard work, enthusiasm, and decoration really show during such ceremonies. A key highlight at the event is the royal bride, who is dressed with the utmost care, attention to detail, and elegance. Consider Meghan Markle's wedding to Prince Harry, for Instance. Per the Daily Mail, Meghan's wedding dress carried a price tag of about $180,000. Wow!
Things have to look perfect during the royal gathering, and there's little room for negligence, especially with cameras all around. But things can go wrong, even during royal events. One such example is the wedding of Queen Elizabeth II (then Princess Elizabeth) and Prince Philip in 1947. The wedding was a grand event with 2,000 invited guests. BBC Radio broadcasted the ceremony to 200 million people globally (per The Royal Family). Not really much room for mishaps!
So what could possibly go wrong with an event that was so well-planned and widely anticipated? Turns out, it was Elizabeth's tiara that needed some attention. Here's more on what happened to the future queen's tiara on her wedding day.
Princess Elizabeth's tiara broke ahead of the ceremony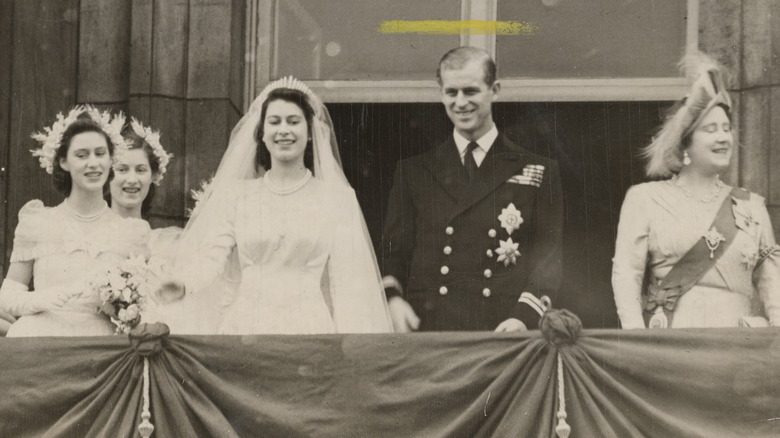 Wedding preparations can be a nightmare! Ensuring that everything goes as planned isn't always easy, especially when you find out your wedding tiara has snapped in two, as Princess Elizabeth learned just hours before her wedding to Prince Philip at Westminster Abbey. Her diamond tiara — known as the Queen Mary's Fringe Tiara — snapped in two as her hairdresser tried to attach it to her veil.
Per The Telegraph, Elizabeth's mother was quite upset after the tiara broke and advised the future queen to choose among other available tiaras. However, Elizabeth was keen on wearing her first choice. So it had to be done! The tiara was securely driven to a jewelry workshop where it was repaired so the princess could wear it as she walked down the aisle. It was a stressful job, but the only sign of the breakage was a visible gap between the diamond spikes.
The queen recalled it all again in a conversation with the Duchess of Cambridge in 2018. "The catch, which I didn't know existed, it suddenly went. And I didn't know it was a necklace, you see… I thought I'd broken it… We stuck it all together again, but I was rather alarmed," she said (per Hello!). Thanks to house jeweller Garrard, the tiara was rapidly repaired and now makes for a beautiful wedding story.
Source: Read Full Article